Still using Booking.com? You're probably paying too much.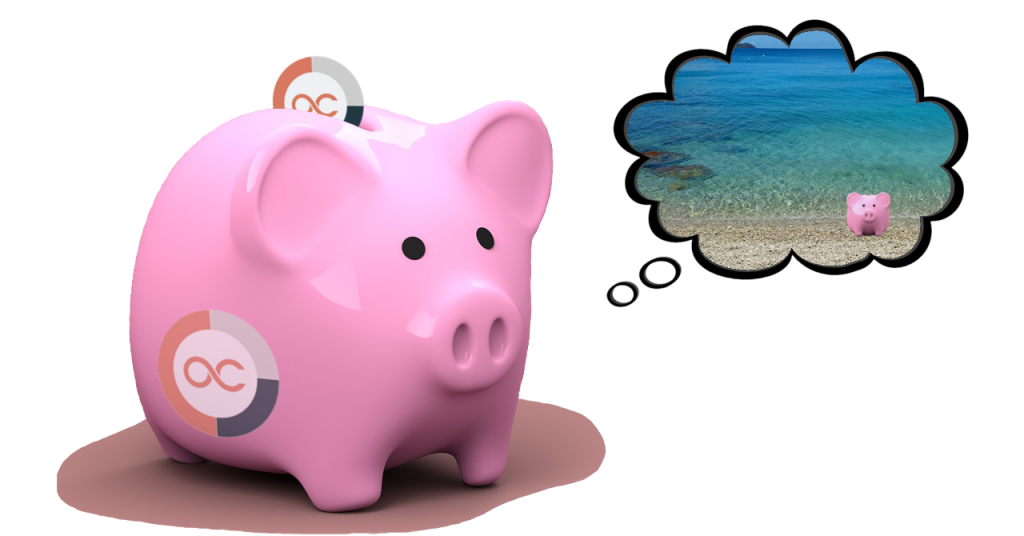 Planning a trip soon? What if I told you there's an alternative to Booking.com that can save you on average 20%? What if I also told you it's possible to earn continuous income there, just by referring your friends? You'd probably be asking "what's the catch?". I wouldn't blame you.
But it's true. There is no catch. Below I'm going to explain to you exactly how it's possible, and how you can get involved. It's very simple. Read on!
The Problem
The online travel industry is currently dominated by large OTAs (online travel agencies) such as Booking.com, Expedia, TripAdvisor, etc. These companies charge huge commissions — up to 30% and possibly more — to support their burgeoning workforces and massive advertising campaigns. They also force hotel and rental managers into unfair contracts containing rate parity agreements. Rate parity agreements are legally binding clauses that ensure hotel owners cannot offer cheaper prices than those shown by OTAs. This results in travelers like you and me unknowingly handing over a large chunk of our holiday money to middlemen (and middlewomen) who actually add no value to our trips. This is an unsustainable business model.
The Solution
The solution was to implement a completely new business model, made possible through the freemium concept and blockchain technology. Now, before you think "Oh no, here we go again. It's one of those cryptocurrency scams. No thank you!", I've got good news for you. You don't need any cryptocurrency to use this new service. You can use your credit card, just like any other booking site. You will get a booking reference number via email, just like any other booking site. All the blockchain stuff is hidden away in the background. All you need to know is that it's delivering real value.
The name of this new marketplace is LockTrip. You can sign up now and book your next stay at any one of 500,000 hotels around the world (covering pretty much every hotel on the planet). LockTrip has successfully done away with commissions and rate parity agreements through the use of smart contracts and a tokenized economy. They will also allow hotel and rental managers to list and manage their properties and guests for free. Since there are no commissions*, you save on average 20%. Please note: this is an average, meaning it's possible to save much, much more.
*To unlock 0% commission, you must pay using LOC, the LockTrip utility token. Payment via credit card is considered a premium feature, incurring a small fee of 2.5%. When you're saving 20% or more, most will agree this is a small price to pay for the convenience and safety of using a credit card.
How does LockTrip make money?
LockTrip works on the freemium business model, which has been adopted by many highly successful companies including Spotify, Dropbox and Skype. Basic functionality is provided for free, with the option of paying a little extra for premium features. But don't worry, the basic functionality gives you everything you need to get the best possible rate. To be successful using the freemium business model, a service must be game-changing. LockTrip is game-changing.
The Marketplace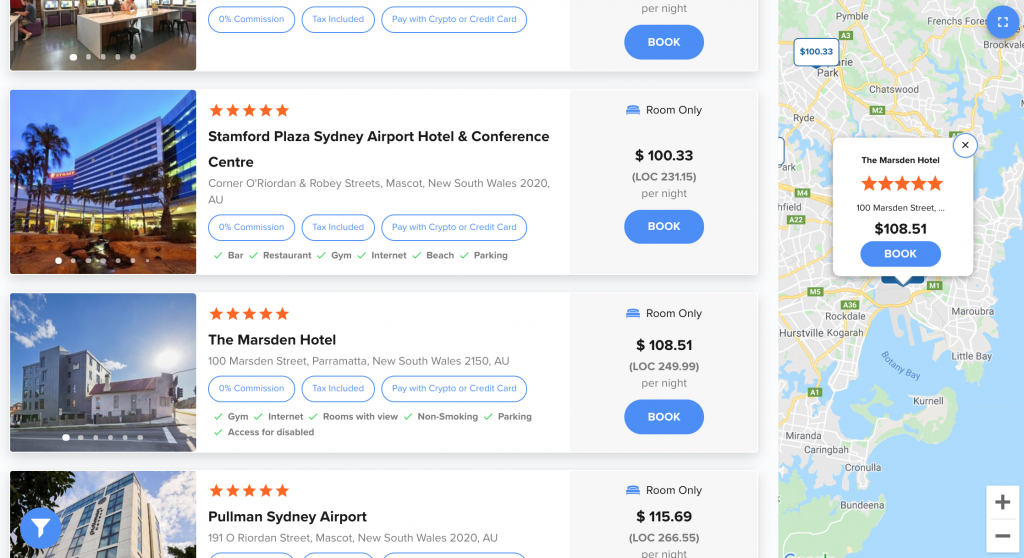 When you first access the website, prices will be displayed in terms of the LOC utility token. Simply register and sign in to see the prices in USD or other currencies. The reason behind this may surprise you: LockTrip is literally not allowed to display their prices in public because they are too cheap. This is a result of the rate parity agreements mentioned above.
A few price comparisons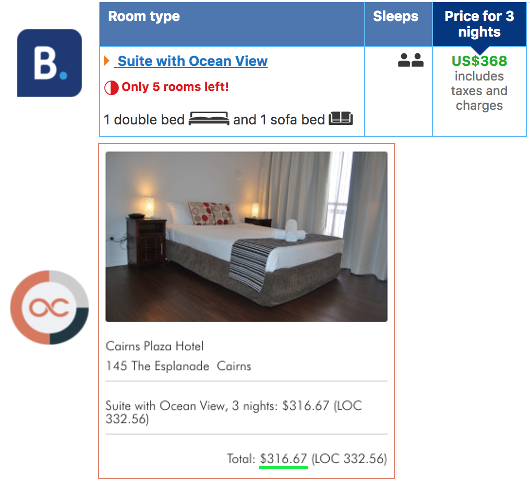 Above is a booking quotation for the Cairns Plaza Hotel in Australia, for 8–11 January 2019. LockTrip offered a saving of almost 15% over Booking.com for the suite with an ocean view.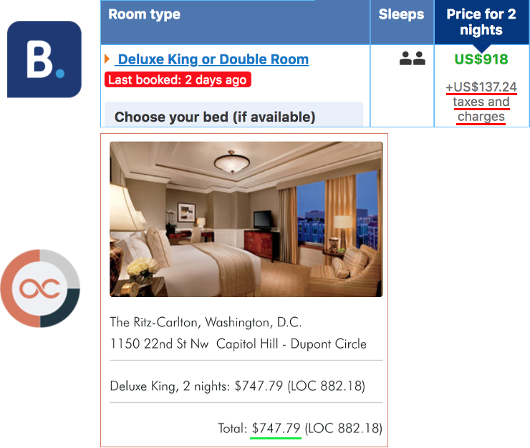 Here's a booking quotation for The Ritz-Carlton in Washington DC, for 15-17 March 2019. Adding in Booking.com's additional taxes and charges, their price climbs to $1055, making LockTrip's around $300 (30%) cheaper for the deluxe king room. Please note: the prices you see on LockTrip always include VAT and/or sales tax. Unlike Booking.com and other websites, LockTrip does not try to fool customers into thinking they are getting a good deal by initially showing misleading prices that do not include VAT or sales tax.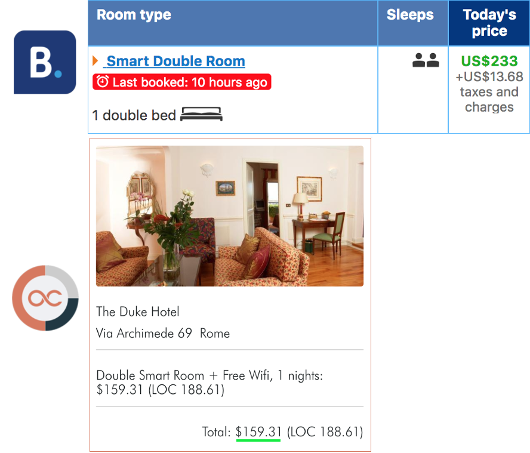 Last is a quote for The Duke Hotel in Rome, for 11 May 2019. In Europe, VAT is included in the cost. The additional taxes and charges beneath Booking.com's price are a city tax. These must also be paid when using LockTrip. Regardless, you would have saved around $74 for a one night stay (32%) if you chose LockTrip.
There are many more great deals just waiting to be found. Why not give it a try now?
User Testimonials
LockTrip has the strongest and friendliest user community that I have ever come across. You can chat with us anytime using the Telegram chat software. Naturally, the community has been the first to start using the platform. Here's just a few examples of recent feedback.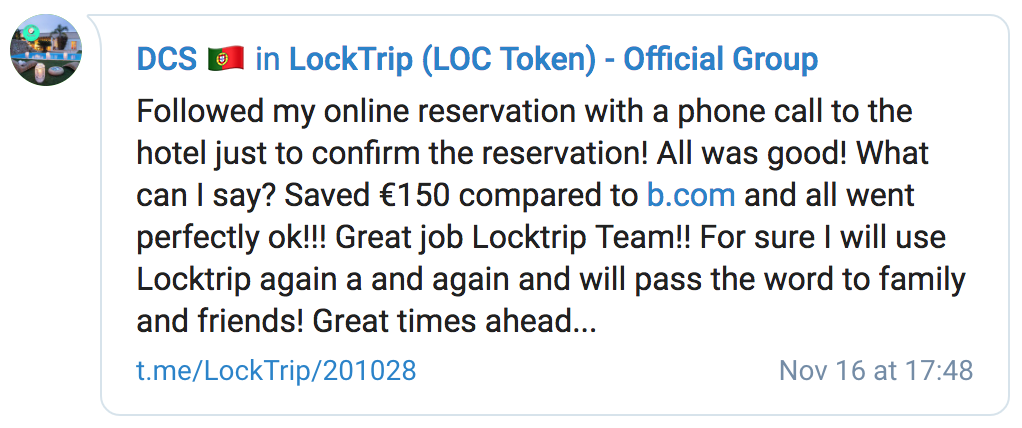 Earn Passive Income
Not only can you access wonderful savings using LockTrip, it's now also possible to earn money by introducing people to the website. When somebody registers using your affiliate link, you will then receive 1% of all their future booking payments, for ever. Then, if they also refer people, you will receive 0.1% from each of those second level referral bookings (up to a maximum of 10 per first level referral). Please note that referral bookings must be made via credit card for you to receive the reward. As explained above, credit card payments accrue a small fee of 2.5%, making it possible for LockTrip to provide this generous affiliate program for its users. If instead a user signs up directly to the platform, without a referral, the 1% reward will be paid to the LockTrip company.
Here's a quick calculation. Say you refer just five people a month, who also refer five people a month. That's 60 first level referrals and 300 second level referrals after one year. If each person makes $1000 worth of bookings a year, you will receive the following yearly income:
Yearly Income = $1000 x ((60 x 0.01) + (300 x 0.001)) = $900
And that's a relatively conservative calculation. Maybe you can refer many more people, who might spend much more on their accommodation. Maybe you know a tour operator that would be interested in LockTrip's savings? You can refer them too!
Anything else I need to know?
Yes! It will soon be possible to book flights at a saving of around 5% with LockTrip. There will be 900 regular and 350 low cost airlines available. And there are more travel-related services on the way. Tax invoices can also be provided for business travelers.
Sign up now and help us fight back against unfair commissions. Not only will you save money, but you can also start earning it through this game-changing service. If you have any questions, come and join us in the LockTrip Telegram channel!