The Ultimate LockTrip Review | Part 1: Overview and Strategy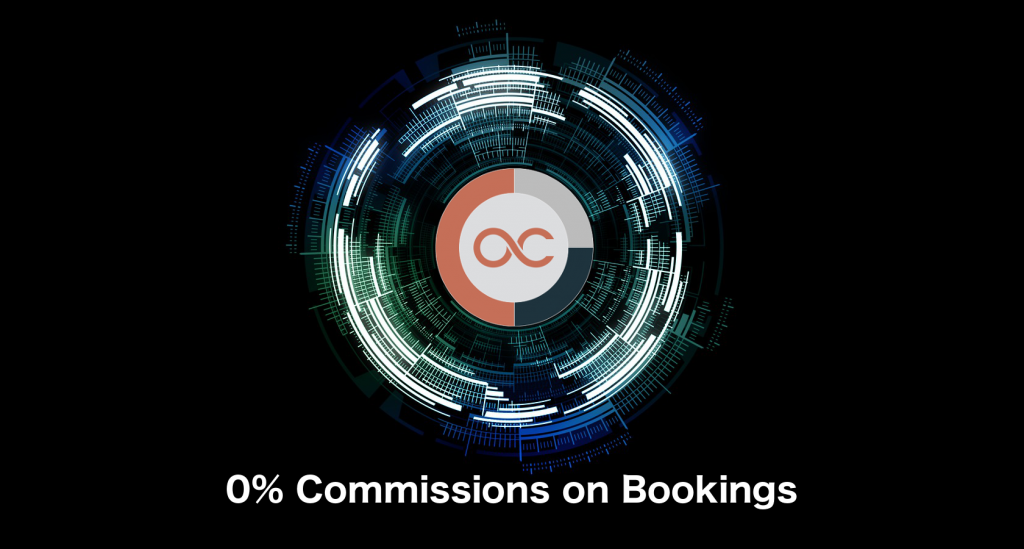 Introduction
This is not your run-of-the-mill, whitepaper rehash review. It is a deep-dive into the product and strategy of the LockTrip company, that can only be provided by someone who has followed it closely for a long time. It will not only look at what has been achieved by the team, but more importantly how and why they did it, providing you with unparalleled insight into this Bulgaria-based startup, and what separates them from the rest. Disclaimer: I hold LOC. This analysis is for informational purposes only and not investment advice.
Project Overview
LockTrip is a complete online travel booking solution offering average savings of 20% compared to competitors such as Booking.com and AirBnB. It consists of:

A live marketplace offering over 500,000 hotels and flights from over 1000 airlines. The marketplace is also where accommodation providers will be able to manage their properties and customers. Please register to see prices in USD and other currencies.
A decentralised accommodation database (the LOC Ledger), and
its own business-oriented blockchain (mainnet scheduled for Q2 2020) that will enable a true shared economy.
These aspects combined allow hotels and private renters to advertise their services globally, manage bookings and collect payments without paying commissions to middlemen. Through the use of the freemium business model and smart contracts, LockTrip has effectively done away with middlemen and their unfair rate parity agreements, giving power (and money) back to the people. Most importantly, LockTrip is one of the few projects currently driving blockchain adoption through a working product that has been proven to save money.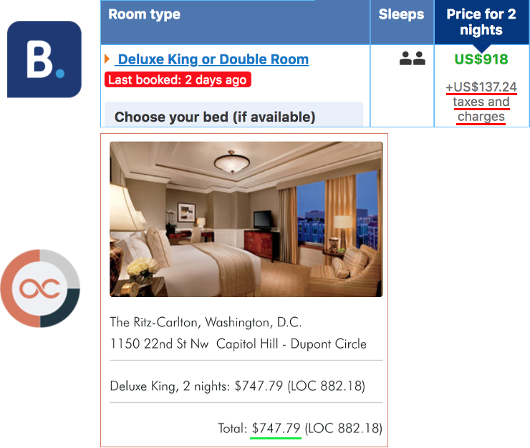 Currently, accommodation providers have little choice but to sign up to monopolistic OTAs (online travel agencies) such as Booking.com in order to generate enough bookings to survive. In doing so, they are forced to forgo a large percentage of their profits in the form of commissions, paid to these OTAs.

The LOC Ledger will solve this problem by allowing accommodation providers to list their properties, manage their customers, and receive payments for free. It will connect providers directly to their customers, while protecting all parties involved (hosts, guests and marketplace managers) by handling payments and disputes, and by creating a public, immutable record of transactions and fees. At the time of booking, 5% of the payment (including via credit card) is automatically converted to LOC tokens (the native LockTrip currency) and locked in a smart contract. An equal amount of LOC tokens are also burnt forever. Upon checkout, if there are no disputes, the locked tokens will be released and the remaining booking payment will be sent to the accommodation provider. LOC tokenomics will be covered in detail in a later part of this series.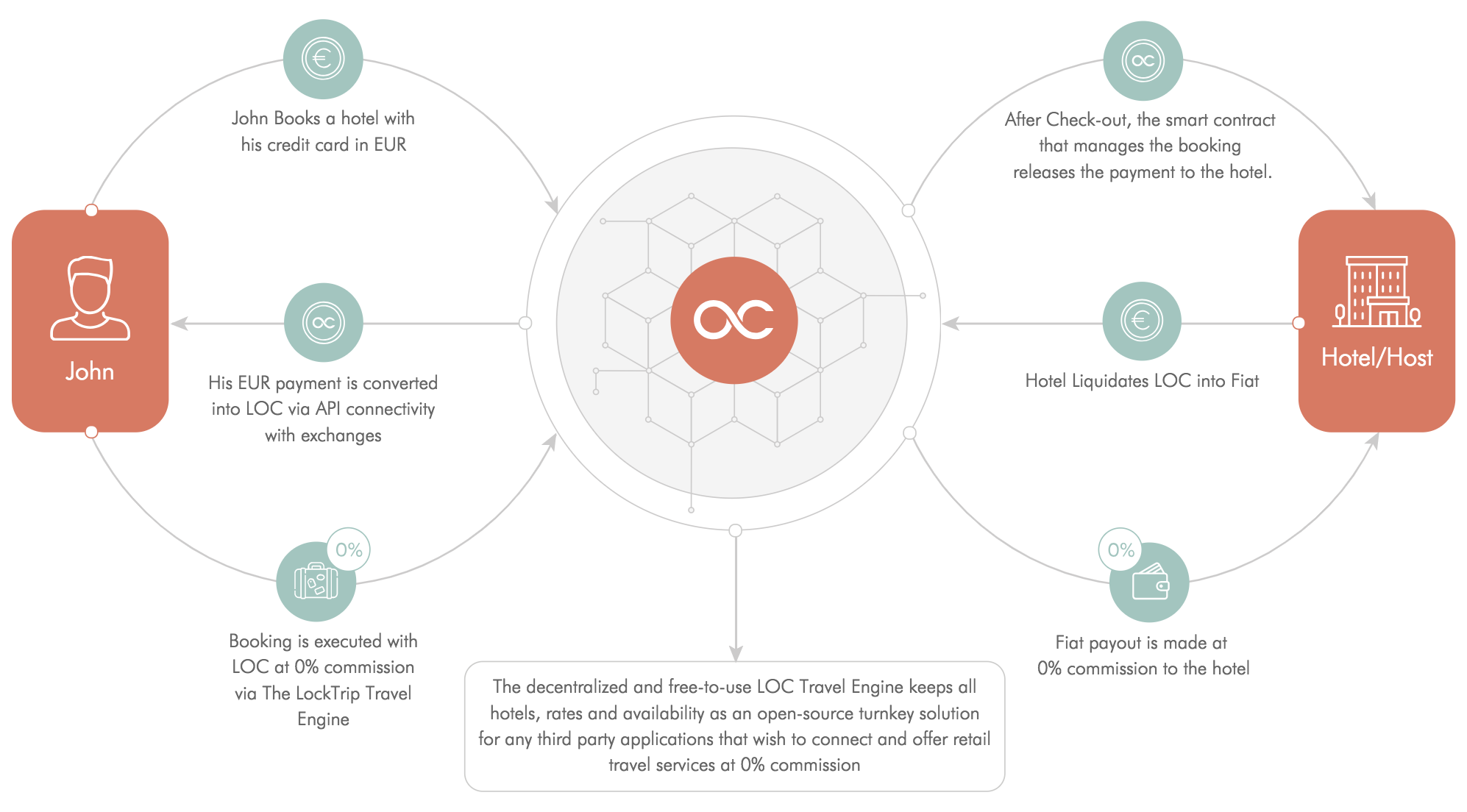 Furthermore, the LOC Ledger will be a freely accessible accommodation inventory that anyone can connect to and build their own marketplace or travel business on top of. Marketplaces utilising the LOC Ledger will act as interfaces to this engine, which will offer a robust inventory in real time, without the need to purchase it from a middleman. As the database grows, it will become more and more valuable to travel companies and entrepreneurs around the world, in particular due to it being free and not controlled by any single entity. All of this will be powered by the native LOC token.

Vision & Planning
You are now aware that LockTrip already has a working product in its LOC-powered accommodation and flights marketplace. So the team has proven their aptitude for vision, planning (and execution) in that respect. The marketplace will be covered in further detail in a later part of this series.

In Part 1, however, I will cover some lesser known aspects of the project development that will really help explain the ingenuity and strength of this team. Afterall, it's these characteristics that ensure the ongoing success of any product.

Ensuring maximum economic efficiency
Like just about every other ICO, LockTrip also held an airdrop marketing campaign. Except LockTrip's was different. They didn't just give away LOC tokens to random addresses on Etherscan. LockTrip's campaign was carefully designed so that it would have the most impact on the utilisation of their product as possible. Firstly, participants were required to create an account on the marketplace. They also had to watch an introductory video about LockTrip, which educated them about the project and its unique strengths. Airdrop rewards were paid into the marketplace's built-in wallet for each user, increasing the likelihood that they would spend it there. Such vision and careful planning is present in all the decisions LockTrip makes.

Targeting maximum adoption
LockTrip was possibly the first blockchain company to make payment via credit card possible for their product. The team quickly identified this as the key to mass adoption, and successfully implemented it, thereby ensuring their product would be attractive to all types of users. You may be asking, "doesn't this defeat the whole purpose of the LOC cryptocurrency?". No. As mentioned above, a portion of payments in the marketplace are automatically converted to LOC tokens and subsequently locked up in a smart contract, and an equal amount are burnt forever. This process was developed in-house by the LockTrip team. Over 150 other payment options are planned for the future, including PayPal, area-specific payment providers and more cryptocurrencies.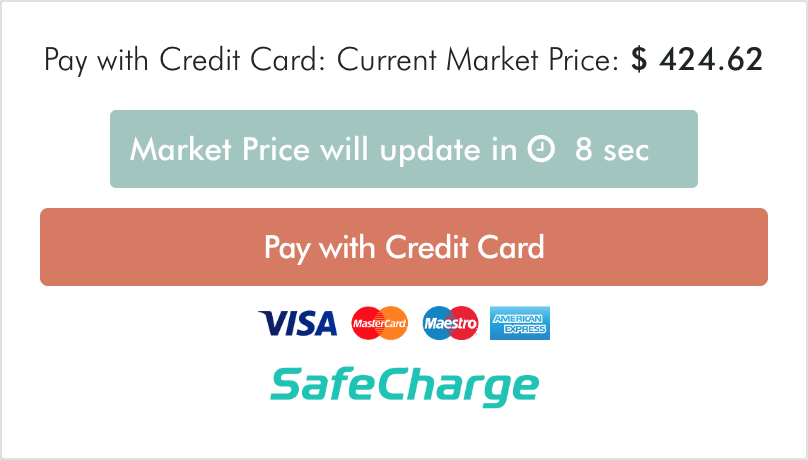 Product first, careful spending, wise marketing
If you've been in the crypto space since 2017, you would have noticed the large number of "influencers" and "marketing experts" that suddenly appeared offering their services to blockchain startups. Many projects wasted millions of dollars on them and other forms of marketing for products that didn't even exist (and still don't). Now they have nothing, except a bag of worthless coins.

At LockTrip, however, since the beginning product has been the No.1 priority. In fact, an alpha version of LockTrip's marketplace was up and running during their token sale, with 600 home rentals available for booking.

The team took its first major step towards marketing only after integrating their first 100,000 hotels and reaching a desired level of marketplace stability and functionality. This major step was in the form of its affiliate program. Developed entirely in-house and integrated into the marketplace, the affiliate program rewards users with 1% of their referrals' booking payments, for ever (sign-up to the marketplace to join). What's even more impressive, is that LockTrip doesn't need to pay a single satoshi towards the rewards, meaning their funds can be spent on improving the product. How is this possible? Credit card payment is considered a premium feature, attracting a small fee of 2.5%. From this, 1% is used for the affiliate reward. Thus, LockTrip has incentivised one of the most powerful marketing techniques (word of mouth), in a way that will have a direct impact on the utilization of their product, at no direct monetary cost.

It's vision and planning such as this that has ensured the LockTrip team has not been negatively affected by the recent cryptocurrency market downturn. While many projects have been forced to downsize their operations, LockTrip has forged ahead, even moving into a new modern workspace. LockTrip also has sufficient funding until 2022, before even touching their crypto reserves. By this time, it's very likely the marketplace will be generating enough income through premium features to support ongoing development. Further information on the project's cryptocurrency reserves will be covered under tokenomics in a later part of this series.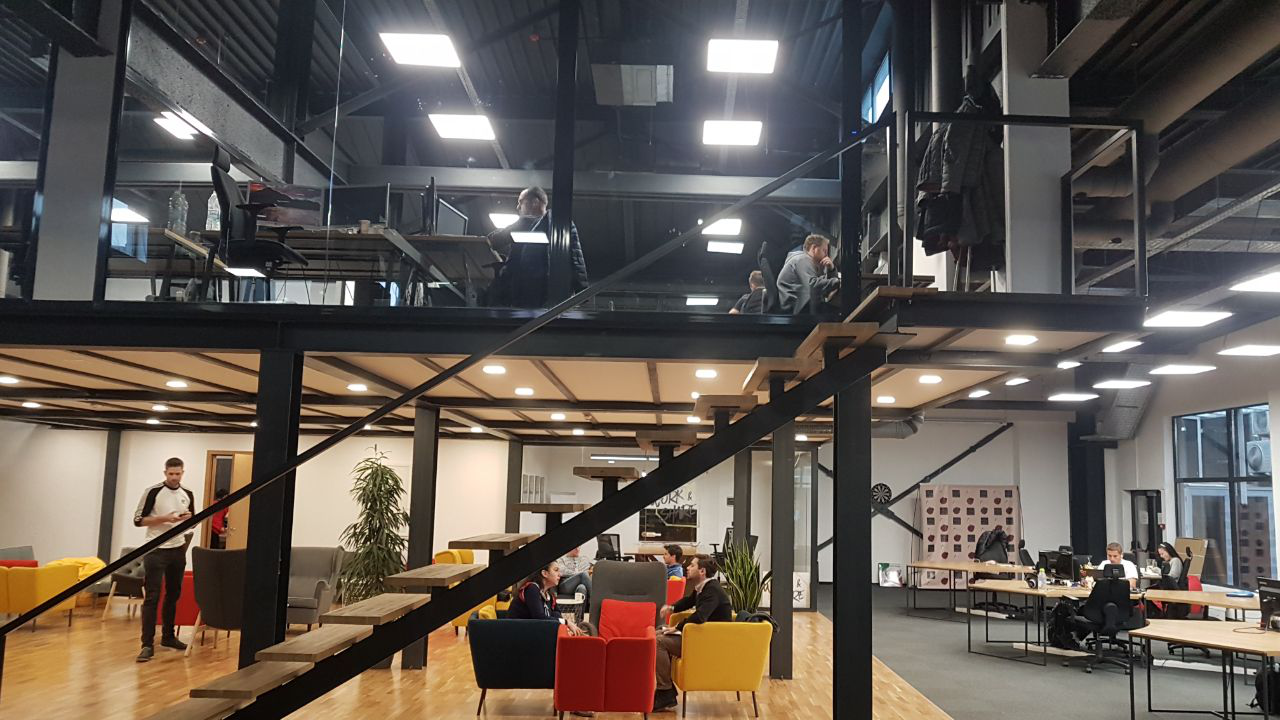 Think big, challenge the status quo
As explained, LockTrip is taking a multi-pronged approach in its construction of a complete decentralised travel infrastructure. Other blockchain-related travel projects are merely tackling single aspects such as payment via cryptocurrency, or just reselling available inventories and recording the transactions on another project's blockchain. LockTrip, on the other hand, is building a free-to-use public inventory from the ground up, on their own purpose-built blockchain. This shows their capacity to think big and a strong desire to truly disrupt the status quo.

In 2018, LockTrip identified that most blockchains (including it's current underlying blockchain, Ethereum) are not suited to real world business applications. This presents huge hurdles for development and long-term sustainability. Some of these hurdles include:

unpredictable transaction fees
a dependence on artificial non-market rewards (block rewards)
an imbalance in economic distribution (100% of transaction fees go to miners)
the requirement for network users to hold the underlying blockchain currency to pay transaction fees (e.g. Ethereum must be held to pay gas for all Ethereum-based apps)
In response to this, LockTrip have developed their own blockchain leveraging the Qtum/Blackcoin proof-of-stake consensus model. The LockTrip blockchain will:

enable a fiat-fixed transaction fee, allowing businesses utilising the LockTrip blockchain to accurately predict usage costs for their applications
remove the dependence on block rewards and focus on the creation of self-sustaining transaction-driven economies (such as the LockTrip marketplace)
attract businesses to use the LockTrip blockchain by returning 50% of the transaction fees generated by their apps to the businesses themselves (as opposed to 0% for business on the Ethereum blockchain). The remaining 50% will go to stakers on the LockTrip blockchain.
remove the need to hold the underlying blockchain currency (LOC) to pay transaction fees, greatly simplifying app usage for customers (LOC will still be used in the background)
This is also great news for LOC holders, as they will be able to stake their coins and receive a portion of the network fees. This strategy will create a truly shared economy, rewarding both LOC holders and the projects that choose to build on top of the LockTrip blockchain. The LockTrip blockchain mainnet is scheduled for launch in late 2019.

To be continued…
That concludes the first part of this review series. I hope you are finding it useful so far. Through the examples above, I aimed to provide insight into LockTrip's strategy and style. For me, these are what make this project so exciting. Together, of course, with their game-changing product.

Please follow us on Twitter, so you will be notified immediately when a new article is released. Part two of this review can now be found here, in which I cover LockTrip's tokenomics and the team/advisors behind all the great work. Why not sign-up to the LockTrip marketplace and discover the savings for yourself? 😀

Further reading
Here's some links to LockTrip articles on some of the key topics mentioned above.

The LockTrip affiliate program